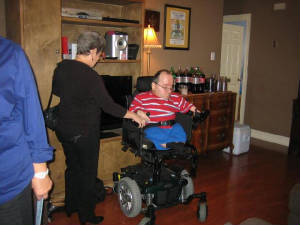 Resume:

I have worked as background since January, 2012 - have done crowds, walk-bys, tile work, block-driving and featured works, overnight, early mornings as well as late night - love it all. Have worked, so far, on over 35 projects - movies, TV shows, webseries and commercial. My car has been used in several movies and TV shows.
I have good endurance, good stamina, and a lot stronger than most think. I am stubborn and do not like to give up easily, willing to retake as often and long as needed to get the shot. I am willing to try to learn any chore or job and willing to try any activity at least once, not afraid to get dirty. Also, can work with or without my glasses. My hair is short and natural color.
Willing to work....
Days, Afternoons, Nights, Weekends, Overnight and can work in New Orleans, LA - Covington, LA - Houma, LA - Hammond, LA -Slidell, LA - Baton Rouge, LA - Lake Charles, LA - Lafayette, LA - Gretna, LA - Westwego, LA - Reserve, LA - Slidell, LA - Pearl River, LA - Biloxi, MS - Gulfport, MS - Hattiesburg, MS - Marietta, GA and everything in between, anywhere up to 300 miles in any direction from Picayune, MS [preferably with a 2 or days shoot].



OTHER PROFILE SITES:
I have costumes for:
the 1800s / 1860s / 1920s thru the 1990s / reaper/ witch / ghost / vampire / mad surgeon / flapper / scrubs - in several colors / western wear / hippie / Bohemian / assorted clown-looks / Mardi Gras attire including beads, feather masks, etc / ALSO, after-5 wear, dressy wear for weddings & other affairs / Christmas party / casual wear / sports wear / homeless look / prostitute / goth / accessories / wigs in assorted styles & colors and willing to add to wardrobe when needed.